NEW Rave Tapes collection by MIC
Whistle posseeeeee!
Celebrate the golden generation of dance music with this new collection of 90's inspired prints from artist MIC.
SHOP THE RAVE TAPES COLLECTION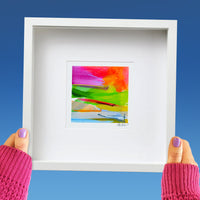 NEW Abstract Landscape Paintings
From artist Alex Ebdon, a collection of original paintings exploring British landscape in abstract form.
Shop The Collection
FOR THE HAPPY COUPLE
Let love rule with our gorgeous collection of engagement and wedding gifts, prints and cards to celebrate those big moments in a couple's life together
SEND SOME POSITIVITY
Let's make the world a more positive place!
Spread some love to your friends and family with our collection of cards with a positive attitude!
LOVE WHERE YOU LIVE
Celebrate your local area with one of our unique prints.
Whether it's the road you live on, your area of town, or the park you love to walk the dog in - we've got something we can make just right for you!
Our designs take a modern twist on a vintage style. And we love to use pre-loved items in our products, giving a new lease of life to beautiful things that might otherwise languish in the bottom of a drawer, or worse be banished to landfill.
From classic encylopaedias to playing cards that show the character of a thousand games of whist, we take items time has forgotten and bring them to life in a new way - to bring joy anew to those that receive them.