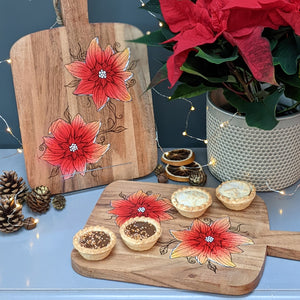 This beautiful serving board is handpainted with the design of Christmas flowers, with every board being unique in the detail of its design. It makes a wonderful addition to your Christmas table.
The boards are crafted from sustainable acacia wood and decorated using the highest artist-quality acrylics, with the design sealed with an acrylic sealant.
Please note - as the design is hand painted onto the board, it's best to treat the painted side as decorative and not use this side as a chopping surface or submerge in water.
Size: 38 x 23 x 1.7cm