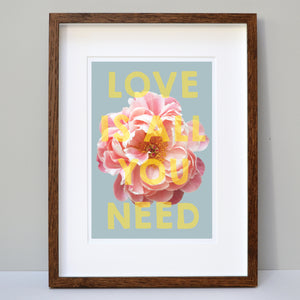 Where would we be without love in our lives? We'd be really sad, and that's a fact.
And we'd be really sad if Lennon and McCartney hadn't penned this beauty of a song too. Let the idea of love beam out from the walls of your home with this lovely floral print. Perfect as a gift for a loved one too.
The work is printed onto wonderful heavyweight matt paper, which gives it tremendous tone and clarity of colour.
The print is A4 in size, so fits very easily into readily-available frames. It is available unframed (posted together with an A4 backing board) or framed in a simple frame with white mount. Please choose which option you would prefer.
Dimensions:
Unframed - 30 x 21 cm (A4)
Framed - 42 x 32 cm (roughly A3)