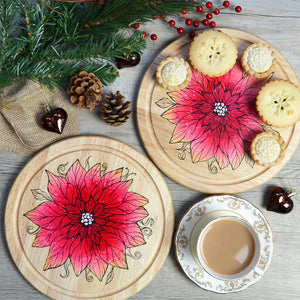 This wonderful serving board features a gorgeous painted design of a poinsettia flower, making it perfect for a Christmas gift or for your own Christmas table.
I hand paint the poinsettia design onto every board individually. Each one is therefore unique in its own way, through the exact shapes of petals.
You can also choose to include a simple personalisation on your board, which I will hand paint at the bottom of the design to create a beautiful extra touch to the piece.
The boards are crafted from rubberwood and decorated using the highest artist-quality acrylics, with the design sealed with an acrylic sealant.
Please note - as the design is hand painted onto the board, it's best to treat the painted side as decorative and not use this side as a chopping surface or submerge in water.
Size: 25cm round